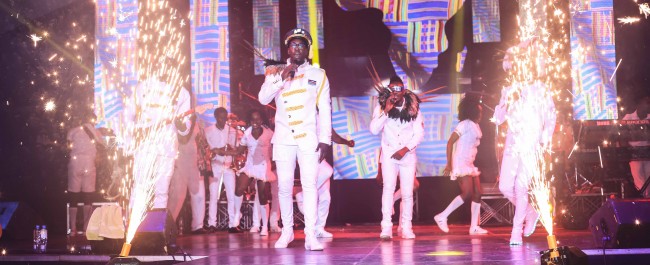 LIVE AND DIE IN AFRIKA – THE SUCCESS STORY
November 21st 2015:
Sauti Sol released their third studio album, titled Live and Die in Afrika, online and was available to all Sauti Sol fans globally for free download within the first 48 hours of release as an early Christmas present. The self-produced album was released under Sauti Sol Entertainment. A total of 400,000 downloads were made during the free download period. After major continental headlines and positive acclaim from critics and pundits, Sauti Sol started planning the album launch to be held in the capital city of the republic of Kenya, Nairobi. This was followed by heavy outdoor advertising across the country amounting to 5 Million per month courtesy of Sauti Sol's official outdoor partner, Tangerine Investments Ltd. Right from the main international airport in Nairobi (JKIA), stands tall a bold statement, Live and Die in Afrika billboard along Mombasa road (a super highway to and from the airport). This is the same for all other major highways.
February 13th 2016:
Sauti Sol put together the biggest album launch in the history of Kenyan music. Word on the street regrading the quality of the production of the show reached every corner of the country and fans started requesting for an opportunity to enjoy the same at the various cities and towns.
April 14th 2016:
Sauti Sol then embarked on a journey towards the nationwide tour, a first for Kenyan music! What's remarkable is that the tour was put together by Sauti Sol Entertainment's in-house team.
In 6 weeks, Africa's Greatest Live Act Hit 6 Major Cities in 6 Mega Concerts!
• Over 250 jobs created in the entertainment sector (Stylists, Make-Up artists, Hair dresser, Choreographers, activation crew, dancers, PR and logistics, management team, setup, sound and technical production ).
• 0ver 80,000 fantastic people, among them Africa's brightest youth!
• 0ver 200,000 university students engaged in our campus activations!
• Radio, TV & Print media partnership worth over 90 Million!
• Tour reach covered by over 25,000 top media across Africa!
• Social Media reach surpassing 2.5 Million people daily!
• Social Media value exceeding KES. 45 Million during tour!
Live and Die in Afrika World Tour:
After about six weeks of touring Kenya, two weeks of touring Southern Africa and several months of preparing and working on their acclaimed Live and Die in Afrika Tour, the first leg of the tour concluded in Swaziland . Hosted in Swaziland, the finale tour concert recorded an impressive over 20,000 plus attendees (BushFire Festival) – the highest in the tour attendance so far.
SAUTI SOL ARE, WITHOUT A DOUBT THE BEST LIVE ACT IN AFRIKA! #LiveandDieinAfrika #GreatestLiveActinAfrika