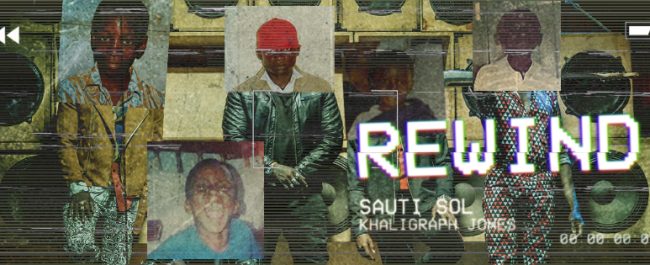 SAUTI SOL REWINDS IT BACK WITH KHALIGRAPH JONES IN NEW MUSIC VIDEO
Sauti Sol is excited to release the 4th single REWIND from their Afrikan Sauce LP. The song features the Kenyan hip hop heavyweight Khaligraph Jones.  The video is available on Sauti Sol's YouTube page. This is part of their bold monthly release schedule intended to go on until the whole LP is launched.
The song has rock and roll vibes to it and is written by Sauti Sol and Khaligraph Jones, composed by Sauti Sol, Humphrey Otieno and Joe Mutoria, produced by Sauti Sol, mix and mastered by Humphrey Ndomboka.  The video was shot and directed by Sesan in collaboration with South Africa's Nate Thomas as the Director of Photography in Nairobi, Kenya
Speaking on his first collaboration with Sauti Sol, Khaligraph stated "I've been pushing for a collabo with Sauti Sol for about 4 years now. At that time I still wasn't ready, until recently when I talked to Bien and Savara but I still needed to get the concept ready. One day Bien called me for a jam session, which was a first for me."
"I have never gone through that type of music making process before with anyone and need I say it was amazing. I felt alive, the vibe was organic and we ended up recording REWIND the same day," he added.
"Working with Khaligraph was flawless. We brought him into our world of making music where we jammed with the band first, got the desired vibe and jumped into studio immediately after. He fit right in and we had the song done the very same day. He is a phenomenal artist. The best part about an artistes' work is seeing it get to the fans and seeing people dancing to our music." Said Polycarp
ABOUT AFRIKAN SAUCE
Throughout the year, Africa's Best Group will be releasing a song every month featuring various African artists. The Afrikan Sauce LP is the group's first ever collabo project. It is a collaborative body of work featuring Africa's best artists. The compositions are a fusion of neo-pop vibes & rich African sounds that speak truth to what love, life and Africa is.
ABOUT SAUTI SOL
Sauti Sol is Africa's biggest music group. The award-winning afro-pop group from Kenya won several awards for being the Best Group in Africa and have been nominated countless times. They include the MTV Africa Music Awards, MTV EMAs, BET Awards, Sound city MVP Awards and AFRIMA.
ABOUT KHALIGRAPH JONES
Khaligraph Jones, is a Kenyan Rapper, CEO to The Blu Ink Corp Record label, CSR champion – Founder of The Baba Yao Foundation and media influencer. He has become the icon of hip hop music not only in Kenya, but in the larger East Africa. Having worked with the likes of Abbass Kubaff, Muthoni The Drummer Queen, Victoria Kimani, Wyre The Love Child (Kenya), Rayvanny and AY(Tanzania), Ice Prince and M.I Mbaga (Nigeria), Khaligraph Jones commands heavy attention, respect and an even greater following through his continent.