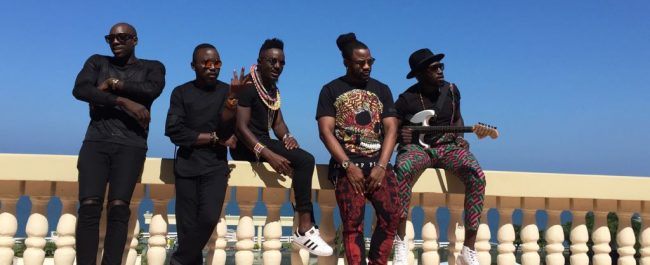 MULTI-AWARD WINNING SAUTI SOL (KENYA) AND C4 PEDRO (ANGOLA) UNVEIL THE VISUALS OF THEIR KIZOMBA HIT COLLABO – 'LOVE AGAIN'.
The MTV MAMA Winners for Best Group and Best Lusophone, Sauti Sol (Kenya) and C4 Pedro (Angola) respectively, unveil dazzling visuals for their kizomba collabo 'LOVE AGAIN'.
LOVE AGAIN is a sincere love song with a romantic touch as expressed in both Portuguese and Swahili, respectively by C4 PEDRO and SAUTI SOL. Love and music go hand in hand. This song is dedicated to you, our female fans and all the lovers out there. "
"LOVE AGAIN" was produced by Kaysha / Sushiraw and is now digitally available. The video was directed by the renowned Dj Marcel, in Mozambique.
SAUTI SOL stated that "Working with C4 PEDRO is a dream come true. He worked tirelessly and did not refrain from expressing himself, hence having incorporated the Swahili and Kenyan language into our personal style. "
For C4 PEDRO "It was a very rewarding experience working with SAUTI SOL. Ever since we met in Dallas, at the AFRIMMA awards, where we were both honored, the interaction and chemistry were great and we soon realized that we had to collaborate one day. The reunion took place again at the MTV MAMA 2016 in South Africa, we were also honored. "This happy coincidence resulted into a studio session the day after the award ceremony. It was a pleasure to record with them, because of their musicality, Africanness. Deep down, this African side that I always make a point of including and preserving in my music."
SAUTI SOL's Bio: Named the Best African Group at the 2014 MTV Africa Music Awards (MAMA), African Muzik Magazine Awards 2016 (AFRIMMA) and SoundCity MVP Awards for Best Group, Sauti Sol also won the coveted MTV Europe Music Awards for Best African Band in 2014.The group was the only band in East Africa to receive a nomination for a BET Award in 2015 for Best International Band – Africa. 'Love Again' is their second collaboration launched this year after the release of "Mbozi za Malwa" with the great Ugandan artist Bebe Cool. Previous collabos include; "Africa" ​​with Yemi Alade, "Oya Come Make We Go" with The legendary 2baba, "Unconditionally Bae" with Alikiba, and "Tulale Fofofo" with Mi Casa in 2016.Sauti Sol released their third studio album "Live and Die in Afrika" in Nairobi before a very warm welcome. The group then embarked on a mega tour to promote the album, touring through 21 world cities, entitled "Live and Die in Afrika Tour". The album "Live and Die in Afrika" was voted one of the 15 best albums of 2015 by Okay Africa. The group was also voted Billboard's Best Promising African Group, voted "Band to be taken into account in 20016" by The Standard Newspaper and "Influential Band of 2015" by East African DRUM magazine.
C4 PEDRO's Bio:
Pedro Henrique Lisboa Santos a.k.a C4 PEDRO, was born in Luanda (Angola), in the Sambizanga neighborhood, but took the first steps in music in Belgium, where he lived for 10 years. Multifaceted, C4 PEDRO is a musician, composer, producer and performer and one of the most influential Angolan musicians of the new generation. In 2007, C4 PEDRO released their debut album "Tears – One People Only One Song" in Belgium, which was later released in Angola on the occasion of their return to their homeland. His second record of "Calor e Frio" originals hits the shop windows in 2011 and catapults the artist's career, exponentially increasing his fame. The tour of this album, fruit of the excellent performance of the hit songs "Dá Só", "Calor e Frio", "Pokémon e Picachu", "Casamento" and "Bo Tem Mel" (theme produced by you and sung and written in partnership With Nelson Freitas) leads the musician and producer to exhaust the Coliseu dos Recreios for the first time in July 2013.
                                                                   C4 PEDRO BOOKINGS
BOOKING:
Phone: +351 967 837 179 | +244 944 206 975
Email: geral@antoniorocha.net
                                                                   SAUTI SOL BOOKINGS
BOOKING:
Phone: +254700 592 242 | +254703 421 301
Email: bookings@sauti-sol.com